Banana-Fiction (My First Love)
Things get a little zany in my interview at Unabridged Chick today. Did you know, for example, that I was the first (and possibly remain the only) writer to attempt to make a career out of banana-fiction?  Yes, I am a master of the genre, but *blushes* downright terrible at titles.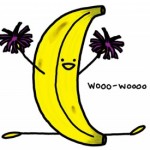 Stop by, learn more about my early attempts at fiction and what terrific books by fellow historical writers I've been reading lately!