Médicis Daughter: A Novel of Marguerite de Valois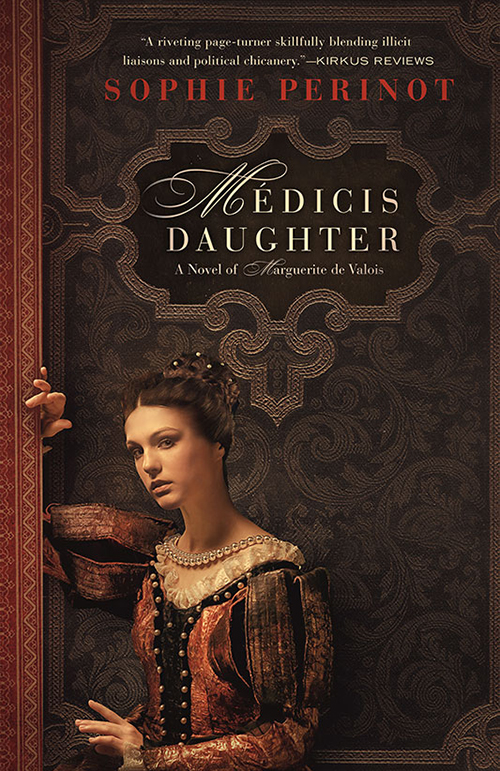 Publisher:
Usignolo Press
Published in:
September 2019
Winter, 1564. Beautiful young Princess Margot is summoned to the court of France, where nothing is what it seems and a wrong word can lead to ruin. Known across Europe as Madame la Serpente, Margot's intimidating mother, Queen Catherine de Médicis, is a powerful force in a country devastated by religious war. Among the crafty nobility of the royal court, Margot learns the intriguing and unspoken rules she must live by to please her poisonous family.
Eager to be an obedient daughter, Margot accepts her role as a marriage pawn, even as she is charmed by the powerful, charismatic Duc de Guise. Though Margot's heart belongs to Guise, her hand will be offered to Henri of Navarre, a Huguenot leader and a notorious heretic looking to seal a tenuous truce. But the promised peace is a mirage: her mother's schemes are endless, and her brothers plot vengeance in the streets of Paris. When Margot's wedding devolves into the bloodshed of the St. Bartholomew's Day Massacre, she will be forced to choose between her family and her soul.
Médicis Daughter is historical fiction at its finest, weaving a unique coming-of-age story and a forbidden love with one of the most dramatic and violent events in French history.
Praise for Médicis Daughter:
"In Médicis Daughter, Sophie Perinot tells the riveting story of a 16th century French princess caught in the throes of royal intrigue and religious war. From the arms of the charismatic Duke of Guise to the blood-soaked streets of Paris, Princess Marguerite runs a dangerous gauntlet, taking the reader with her. An absolutely gripping read!"
Michelle Moran
Bestselling Author of REBEL QUEEN
—
"This is Renaissance France meets Game of Thrones: dark, sumptuous historical fiction that coils religious strife, court intrigue, passionate love, family hatred, and betrayed innocence like a nest of poisonous snakes. Beautiful Princess Margot acts as our guide to the heart of her violent family, as she blossoms from naive court pawn to woman of conscience and renown. A highly recommended coming-of-age tale where the princess learns to slay her own dragons!"
Kate Quinn
Bestselling author of LADY OF THE ETERNAL CIT
—
"Rising above the chorus of historical drama is Perinot's epic tale of the fascinating, lascivious, ruthless House of Valois, as told through the eyes of the complicated and intelligent Princess Marguerite. Burdened by her unscrupulous family and desperate for meaningful relationships, Margot is forced to navigate her own path in sixteenth century France. Amid wars of nation and heart, Médicis Daughter brilliantly demonstrates how one unique woman beats staggering odds to find the strength and power that is her birthright."
Erika Robuck
Bestselling Author of HEMINGWAY'S GIRL