This week it was a review-a-day for Médicis Daughter, and all of them good!
Peeking Between the Pages highly recommended the novel, declaring:
Well researched and rich in historical detail Medicis Daughter is sure to please any historical fiction fan and it's one of my favorites of the year.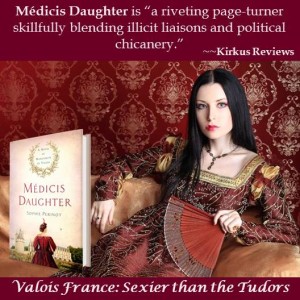 And Darlene paid me a great compliment in saying that my "talent at weaving history with a captivating story is what makes her novels so entirely readable."
Over at The Mad Reviewer (where Médicis Daughter earned 5 of 5 stars), Carrie said:
Perinot's descriptive writing style … brings the court and the characters to life.  She can be beautifully descriptive but also knows when to pare down her writing for the sake of pacing.
A theme picked up by Just One More Chapter:
Sophie Perinot writes with rich details, her descriptions made it so easy to visualize what was taking place – I was totally absorbed in her story.
Both The Maiden's Court (where Heather gave the book 4.5 of 5 stars) and The Eclectic Reader (Teddy) appreciated the coming-of-age aspects of the tale. Saying:
There is a real sense of Marguerite's growth as the novel progresses, fueled by the machinations and ill-treatment by her family, naivety fast becomes awareness and intelligence and a strong moral compass hold her in good stead challenging her family in doing what she believes is right. (Teddy)
And
. . .we see a coming of age story from a young, innocent girl into a woman of the Valois court who makes decisions for herself, goes toe-to-toe with her powerful mother, and ultimately who becomes a strong woman (Heather)
Well thank you ladies all! I am blushing!  For those of you who are not sick of me saying it already, Médicis Daughter: A Novel of Marguerite de Valois releases in 11 days.  It is currently available for pre-order at Amazon, B&N, Indiebound and (for the international set) Book Depository (though it appears they will be shipping out later).  If you order today then you will have it in your hands more quickly!