Today I am inaugurating a new type of  post, Historical Resources I Love, giving me an opportunity to share some of the many volumes I keep close at hand while writing.  These are books, websites, etc that will allow you to delve more deeply into the history related to The Sister Queens should you so choose.
First up, Medieval Costume in England and France:  The 13th 14th and 15th Centuries by Mary G. Houston.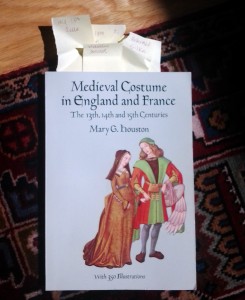 Tired of reading about "sleeveless surcoats" without being able to imagine what one looks like?  Don't know your Agrafe (a brooch used to fasten a cloak) from your Agraffes (hooks and eyes used on armor and other garments)?  This slender volume will set you straight.  What do I love about it?  It's brief, well researched, amply illustrated and covers bothEngland and France (handy when you are writing about sisters who became the queens of those kingdoms).  So slip into something comfortable, setting down in your chair and explore the fashions of the past.