It is cover Celebration Day for my good friend and Scarlet Sister Kate Quinn's upcoming novel, THE ROSE CODE.
LOOK at this beauty!!!! And let me tell you WHAT IS BETWEEN THE COVERS IS EVEN MORE exciting (envy me oh readers–I've read the whole thing already. Such are the perks of being a critique partner).
Here's a teaser . . .
ABOUT THE BOOK
The New York Times and USA Today bestselling author of The Huntress and The Alice Network returns with another heart-stopping World War II story of three female code breakers at Bletchley Park and the spy they must root out after the war is over.

1940. As England prepares to fight the Nazis, three very different women answer the call to mysterious country estate Bletchley Park, where the best minds in Britain train to break German military codes. Vivacious debutante Osla is the girl who has everything—beauty, wealth, and the dashing Prince Philip of Greece sending her roses—but she burns to prove herself as more than a society girl, and puts her fluent German to use as a translator of decoded enemy secrets. Imperious self-made Mab, product of east-end London poverty, works the legendary codebreaking machines as she conceals old wounds and looks for a socially advantageous husband. Both Osla and Mab are quick to see the potential in local village spinster Beth, whose shyness conceals a brilliant facility with puzzles, and soon Beth spreads her wings as one of the Park's few female cryptanalysts. But war, loss, and the impossible pressure of secrecy will tear the three apart.

1947. As the royal wedding of Princess Elizabeth and Prince Philip whips post-war Britain into a fever, three friends-turned-enemies are reunited by a mysterious encrypted letter–the key to which lies buried in the long-ago betrayal that destroyed their friendship and left one of them confined to an asylum. A mysterious traitor has emerged from the shadows of their Bletchley Park past, and now Osla, Mab, and Beth must resurrect their old alliance and crack one last code together. But each petal they remove from the rose code brings danger–and their true enemy–closer…
Pre Order today from the vendor of your choice! And make sure you subscribe to Kate's newsletter to stay updated!
Drum roll please (okay maybe not, that does remind one of the moments before the blade falls on the guillotine—at least if one is an aristo) . . .
Here it is,cover of my next novel RIBBONS OF SCARLET–co-authored with the amazing Kate Quinn, Stephanie Dray, Heather Webb, Eliza Knight and Laura Kamoie!!!
Are those the Market Women, members of the original WOMEN'S MARCH, marching on Versailles? Why yes!!!  But my role in RIBBONS OF SCARLET was to offer the story of the only Royalist—The king's intelligent, pious, and ultimately daring sister Princess Elisabeth, who takes a stand to defend her brother, spirit her family to safety, and restore the old order, even at the risk of her head.
As Madame Elisabeth scrambles to save those she loves, and the women of Paris march on towards Revolution and their destinies, you dear readers can march to your favorite purveyor of books and PRE-ORDER your copy of RIBBONS OF SCARLET (which will release October 1) TODAY!
Here are those handy "buy" links–
Amazon 
Barnes & Noble
Kobo
Indiebound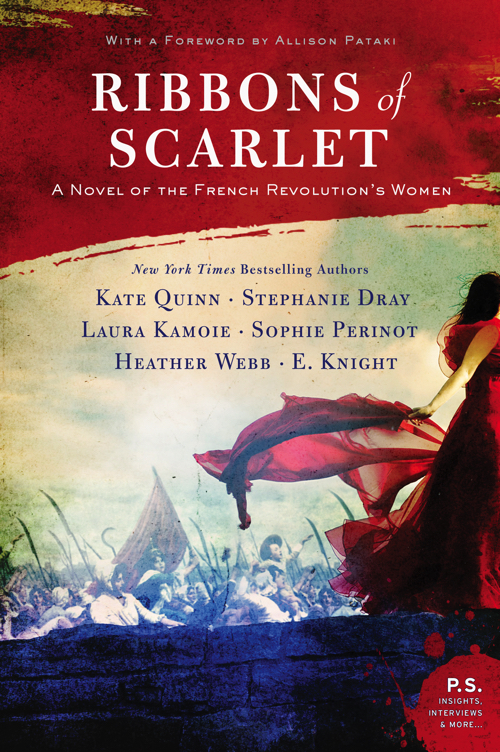 I am getting all FIRED UP! The "A Day of Fire" cover is here, and my co-authors and I hope you'll agree that it is hot, hot, HOT!
A Day of Fire: A Novel of Pompeii
Pompeii was a lively resort flourishing in the shadow of Mount Vesuvius at the height of the Roman Empire. When Vesuvius erupted in an explosion of flame and ash, the entire town would be destroyed. Some of its citizens died in the chaos, some escaped the mountain's wrath . . . and these are their stories:
A boy loses his innocence in Pompeii's flourishing streets.
An heiress dreads her wedding day, not knowing it will be swallowed by fire.
An ex-legionary stakes his entire future on a gladiator bout destined never to be finished.
A crippled senator welcomes death, until a tomboy on horseback comes to his rescue.
A young mother faces an impossible choice for her unborn child as the ash falls.
A priestess and a whore seek redemption and resurrection as the town is buried.
Six authors–Stephanie Dray, Ben Kane, Eliza Knight, Kate Quinn, Vicky Alvear Shecter,and I–bring to life overlapping stories of patricians and slaves, warriors and politicians, villains and heroes who cross each others' path during Pompeii's fiery end. But who will escape, and who will be buried for eternity?
For those who don't already know I wrote "The Heiress" for this fantastic "novel in six parts." In my story, spirited Aemilia is horrified by her betrothal to her father's friend, Sabinus, a staid man with an obsessive interest in mechanical engineering and geology. Indulging in a clandestine flirtation with a handsome young artist restoring frescoes at her family's villa, Aemilia pays scant attention to her future husband, or his scientific prognostications of doom for the city of Pompeii. When Vesuvius begins to erupt, however, Aemilia sees Sabinus in a new light—but is it too late?
"A Day of Fire: A Novel of Pompeii" releases on November 4, 2014. Can't wait to have the book in your hot-little-hands? DON'T—make a date with destiny, and make sure you receive your copy immediately by pre-ordering "A Day of Fire."
Or enter below to WIN a copy of "A Day of Fire"