A Day of Fire: A Novel of Pompeii told in six parts and featuring "The Heiress" by Sophie Perinot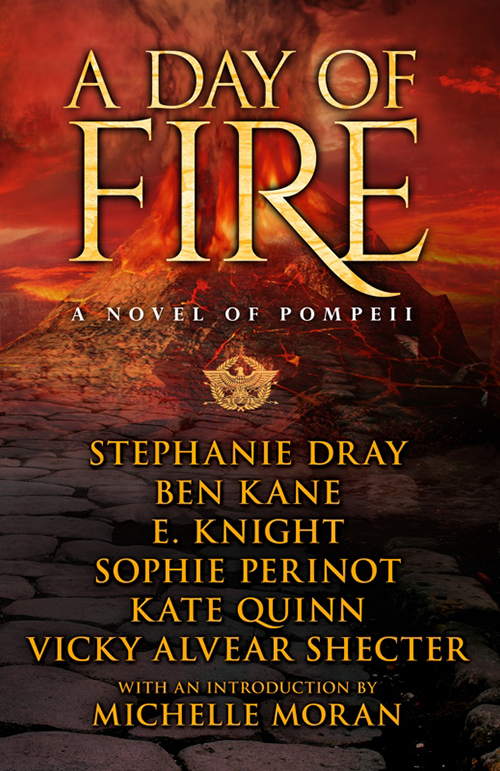 Publisher:
Knight Media, LLC
ISBN #:
978-0-9903245-6-0
Published in:
November 2014
Reviews
"The Heiress" by Sophie Perinot, which sees a privileged young woman torn between a gorgeous bad-boy type and the sensible older man her father wants her to marry, stands out for the thoughtfully realistic transformation of its heroine." – Sarah Johnson, READING THE PAST
"This is very powerful writing – in my notes I've put '10/10 – Excellent!'" –
"The six writers are all extremely accomplished, skilled and knowledgeable in both their writing and specialist knowledge. The concept of A Day of Fire is original and ingenious." – HNS Reviews Magazine
"a rattling good tale of disaster, death, resolution and rebirth." – Dodging Arrows
"Taking inspiration from the frescos that grace the Villa dei Misteri, Perinot delves into the wedding traditions of ancient Rome and presents a surprisingly nontraditional love story that cuts straight to the heart." – Flashlight Commentary
"…from the opening words of this novel I was hooked! Despite being separate stories they flow together seamlessly to form a cohesive tale and it's one I won't soon forget." – Peeking Between the Pages
Pompeii was a lively resort flourishing in the shadow of Mount Vesuvius at the height of the Roman Empire. When Vesuvius erupted in an explosion of flame and ash, the entire town would be destroyed. Some of its citizens died in the chaos, some escaped the mountain's wrath . . . and these are their stories:
A boy loses his innocence in Pompeii's flourishing streets.
An heiress dreads her wedding day, not knowing it will be swallowed by fire.
An ex-legionary stakes his entire future on a gladiator bout destined never to be finished.
A crippled senator welcomes death, until a tomboy on horseback comes to his rescue.
A young mother faces an impossible choice for her unborn child as the ash falls.
A priestess and a whore seek redemption and resurrection as the town is buried.
Six authors bring to life overlapping stories of patricians and slaves, warriors and politicians, villains and heroes who cross each others' path during Pompeii's fiery end. But who will escape, and who will be buried for eternity?
Praise for A Day of Fire:
"The best fictional account of the disaster that I have read."
Simon Scarrow
#1 bestselling author of the Eagle stories
—
"Writing of THE HEIRESS by Sophie Perinot: "This is very powerful writing . . . 10/10 – Excellent!"
Steven A. McKay
Bestselling Author
—
"Real-life historical suspense doesn't get more dramatic."
Sarah Johnson
of "Reading the Past"
—
"This truly is the finest book i have read this year, an emotional roller-coaster that educates while it entertains."
Parmenion Books